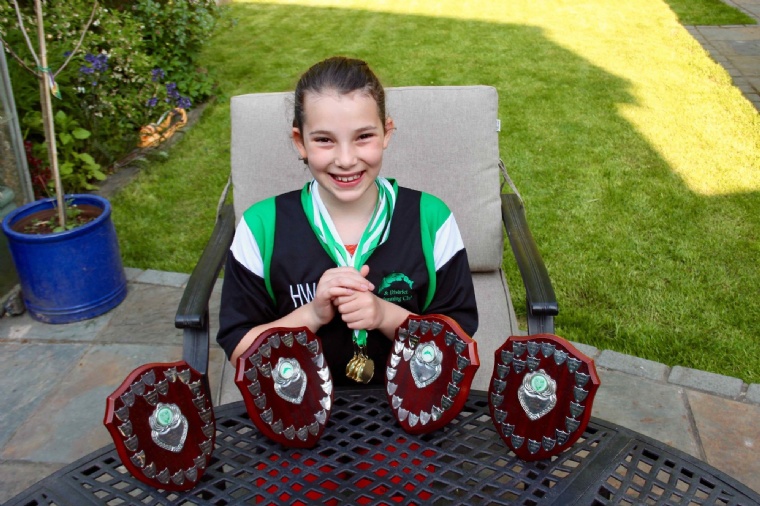 Year 7 student now part of the Junior County Squad!
Holly Warnes first took part in the Eggar's supported Primary Schools Swimming Gala in January 2016. Back then she could only swim breaststroke but that first gala inspired her to take lessons.
In 2017 Holly entered the Gala again and this time she was able to swim 25m front crawl in just over 60 seconds. She realised how much she enjoyed swimming, so she joined Alton & District Swim Club.
Holly has now worked her way up to swimming in the Junior County Squad, training for over 6 hours per week and taking part in various competitions. Now that she has started at Eggar's she looks forward to joining other club swimmers at school and being an inspiration to others.
And what does progress look like?
She can now do 25m front crawl in under 17 seconds!
Congratulations Holly!
The 2019 Primary School Swimming Gala is already in the diary: 15th January at Alton Sports Centre. Eggar's are looking forward to sponsoring the event again and hopefully it will be the start of another young champion's swimming career.
@eggars

Do the Maths! Year 10 students Libby, Evie, Jess and Cali took up the Alton School Maths Challenge this week. Working with four future Eggar's students from Bentley School, they tackled three rounds of very difficult problem-solving maths. They were fantastic ambassadors https://t.co/onVvrb3qcJ 10:18 PM - 25 Jun 2022

@eggars

It's Fri-YAY and we're celebrating Matt D and his performance at the National Schools Biathle last weekend. He was placed 2nd in the Year 7 Boys race. (Biathle is an event that can involve a runswimrun course, or simply a swimrun course). #SoundsExhausting #GoMattGo https://t.co/pIe7RXQUpa 6:00 PM - 24 Jun 2022

@eggars

All rounders! Year 9/10 girls continued their strong rounders season yesterday with a 9.5 to 8 win against Alton School. The team were led to victory by Gemma (Batter of the game) and Charlotte (Fielder of the game). #WeAreEggars #GreenArmy https://t.co/nJ2EQkRBBx 3:38 PM - 23 Jun 2022
Follow Us