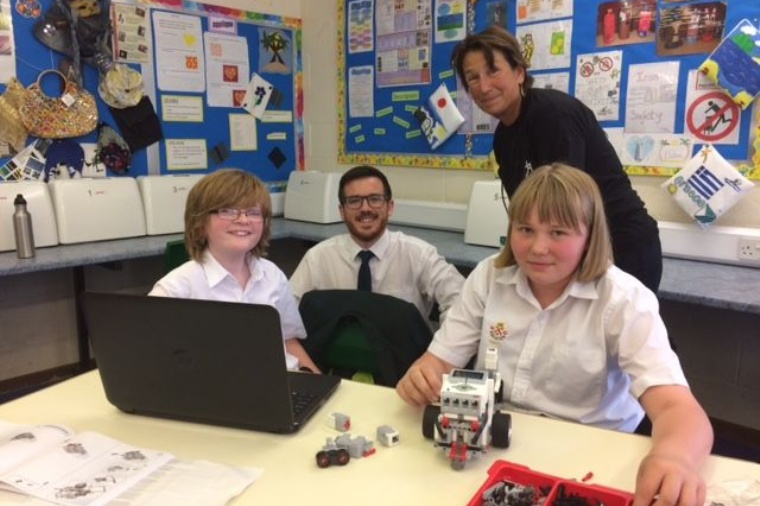 Our Digital Leaders were particularly enthusiastic of an award of £1000 from the James Ballantyne Memorial Fund (JBMF). This funding, plus some self-fundraising and a PTA bid, enabled the IT Department to invest in Lego Mindstorms (programmable robots based on Lego building blocks ). The investment has had a big impact on our students.
Catherine and Warren from the JBMF came to the school to see how the money had been used and were thrilled to see the enthusiasm and skill of our Digital Leaders.
One Digital Leader, Roan Devine, writes:
"I think it is great that we have Mindstorms, a fantastic way to learn how to code as well as being fun. From the perspective of a student, they offer a new way to learn how to program, adding problem solving skills and flexibility - all useful to GSCE computer science students. They also open up a new opportunity for group based work around robotics, as well as something new for the Digital Leaders to help the student body with.
It will really help with the competition the school has entered over the last few years -programming Lego Mindstorms to complete certain challenges. Now we have enough to enable groups to work at the same time on their competition entry. This couldn't have been done without the support of JBMF who helped to fund the purchase.
We have really enjoyed experimenting with Mindstorms and we know it will be a well used resource for many years".
About the James Ballantyne Memorial Fund: 3 years ago, James Ballantyne was tragically killed in a road traffic accident. James was an energetic, eccentric, idiosyncratic, generous and sociable 23 year old. He had an infectious passion and enthusiasm for everything he did. One of those passions was for engineering and in particular electronic engineering. To that end the James Ballantyne Memorial Fund was set up to provide information and advice and to advance education in the study and practice of engineering among young people.