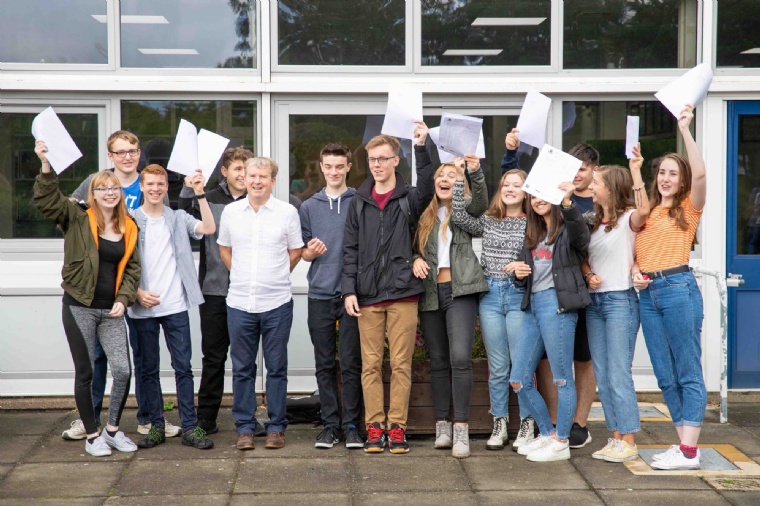 Strong results in English, Maths and Science
It was an emotional morning as the class of 2018 arrived at school on Thursday to pick up their GCSEs. It is fantastic to report that overall our results were excellent.
Since the introduction last year of the new assessment regime for English and Maths, the Foundation subjects have also been included this year using the 1-9 scale at GCSE. The Department of Education have advised that level 4 is regarded as a pass in English and Maths, with level 5 being a strong pass.
We have some excellent results with 81% of students achieving a level 4 and above. Mathematics achieved 84% level 4 plus and English achieved 86% level 4 plus. Science results were also pleasing with 78% achieving a level 4 or above in two Science qualifications or more and 63% level 5 or above.
Head Teacher, Patrick Sullivan, commented:
"I am delighted for the students and these results are a reflection of the commitment of both staff and students. The Year 11 students worked very hard and this is a reward for their ambition and commitment. Results in English, Mathematics and Science were strong, as were results in the Foundation subjects.
Among our highest performers, who achieved top grades, were:
Beth Scott: 6 x 9s, 2 x 8s, 2 x 7s
Ben Roper: 4 x 9s, 1 x 8 and 3 x 7s
Gavin Heffernan: 2 x 9s and 8 x 8s
Chloe Toft: 2 x 9s and 6 x 7s
Toby Morris: 2 x 9s, 4 x 8s and 4 x 7s
Rachel Hannan: 1 x 9, 3 x 8s and 4 x 7s
Harriet Phipps: 5 x 8s and 5 x 7s
Charlotte Adderson: 5 x 8s, 3 x 7s, 1 x 6 and 1 x 5
Emily Adderson: 1 x A*, 2 x A, 5 x 7s and 3 x 6s.
Staff have worked unbelievably hard and their tremendous commitment has made the difference for so many of our students. We are delighted that yet another group of talented students leave Eggar's with bright careers ahead."