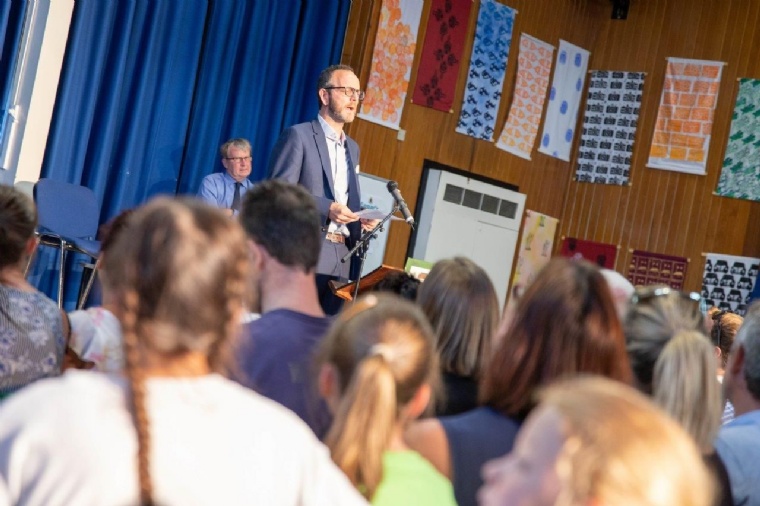 A full house for Awards Evening 2018
On Tuesday 10 July we celebrated the achievements of our students at the annual Awards Evening ceremony. Award winners, parents, staff and governors enjoyed drinks and nibbles before the event commenced at 18:30. The hall was full to capacity and we were delighted to welcome guest presenter, Steve Gilder, Manager of the Future Skills Centre, Bordon.
Following Mr Sullivan's welcome, the evening's hosts Mr Legg and Miss Bertram, introduced each award category. Curriculum Leaders accompanied their subject winners to the stage where they were presented with certificates and awards. There was musical entertainment from Eggar's Big Band led by Mr Farris.
At the end of the evening the following Special Sports and School Awards were presented to:
Victor Ludorum Sports Award: Dylan Milner
Victorix Ludorum Sports Award: Abigail Green
Roy Bone Memorial Sports Trophy: Benjamin Dowds
Years 7 to 10 Excellence Awards: Karla Webb, Rory McLackland, Kayleigh Habicht and Jayda Whitehill
​​​​​​​Attendance and Progress Awards: Bill Barker, Ella Wharton, Neve Randall, Zac Salczynski and Nicholas Tate
Michael Newman Award: Evie Goros for most improved in Key Stage 3 English
Outstanding Artist Award: Stephanie Hales for her commitment and hard work in Art
Outstanding Musician Award: Benjamin Morgan for his outstanding commitment to music
Sylvia Vine Citizenship Award: Will Lacey for his courageous actions at a recent traffic incident and assisting the emergency services
Margaret Crowe Student Leadership: Amelia McKenzie for superb organisation and leadership skills with Mock Trial Competition, and Peer Mentoring
Head Teacher's Innovation Award: Joshua Brindley for innovative use of sound and lighting equipment at school events and Rock Challenge
Vote of thanks and presentation of a gift to guest Steve Gilder was made by Head Girl, Natasha Wilde, Head Boy, Archie Harrison supported by Deputy Head Girl, Amelia McKenzie and Deputy Head Boy, David Gee who also received Senior Prefects Awards.
Congratulations to all 2018 award winners!
@eggars

Do the Maths! Year 10 students Libby, Evie, Jess and Cali took up the Alton School Maths Challenge this week. Working with four future Eggar's students from Bentley School, they tackled three rounds of very difficult problem-solving maths. They were fantastic ambassadors https://t.co/onVvrb3qcJ 10:18 PM - 25 Jun 2022

@eggars

It's Fri-YAY and we're celebrating Matt D and his performance at the National Schools Biathle last weekend. He was placed 2nd in the Year 7 Boys race. (Biathle is an event that can involve a runswimrun course, or simply a swimrun course). #SoundsExhausting #GoMattGo https://t.co/pIe7RXQUpa 6:00 PM - 24 Jun 2022

@eggars

All rounders! Year 9/10 girls continued their strong rounders season yesterday with a 9.5 to 8 win against Alton School. The team were led to victory by Gemma (Batter of the game) and Charlotte (Fielder of the game). #WeAreEggars #GreenArmy https://t.co/nJ2EQkRBBx 3:38 PM - 23 Jun 2022
Follow Us