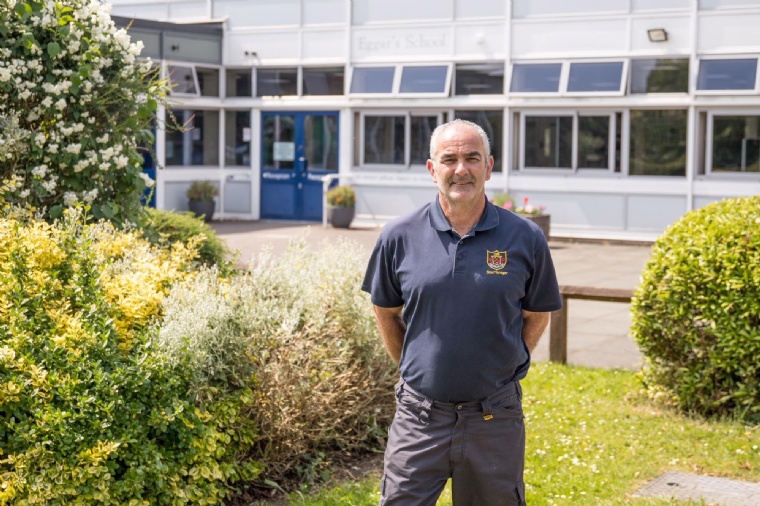 Dave Webb: Our multi-talented site manager
There has been a lot of activity around the extensive Eggar's site over the last 6 months – from the new Refectory and Grab and Go food pod to some beautiful landscaping and the development of a new Memorial Garden. And there is one man who not only coordinates these activities, he also designs, builds AND excels at keeping the costs down too: Dave Webb, our Site Manager Extraordinaire.
Dave has been at Eggar's since March 2015, managing one of the largest parts of the school budget and one of the smallest teams. Day to day work includes the timely maintenance and repairs of pretty much everything on site – from classroom furniture and the school field to burst pipes and flower beds and borders.
On top of all that, the last year has seen several major building projects. Previously Dave worked as a building contractor and those skills have certainly been put to very good use at school.
Last summer, he designed and helped to build the Pavilion, an impressive hexagonal structure specifically designated for Year 7s during break and lunchtimes.
This was just a warm up for this year's projects!
Over the last few months Dave project managed the exciting new Refectory build, coordinating the construction and helping to reduce costs considerably. He has landscaped the whole area and has designed and built an additional Grab and Go food pod.
He also loves to make the school site look fantastic with some gorgeous hanging baskets, flower beds and borders. Unsurprisingly he is a regular Alton in Bloom winner.
Not without some understatement, Dave says: "There's always something to do at Eggar's"
@eggars

We hope everyone has a happy, active Easter. Looking forward to summer activities on our return https://t.co/UM4kOigExA 6:57 AM - 01 Apr 2023

@eggars

Wishing everyone a relaxing Easter break and please read our latest newsletter. https://t.co/M6P02Ly3ch https://t.co/4EwzE5sGDt 1:02 PM - 31 Mar 2023

@eggars

End of term and our Refectory have Hot Cross Buns on offer for the students and staff. The team do an amazing job keeping everyone fed and happy at school. #easter #endofterm #WeAreEggars https://t.co/mv568iwwdw 9:25 AM - 31 Mar 2023
Follow Us