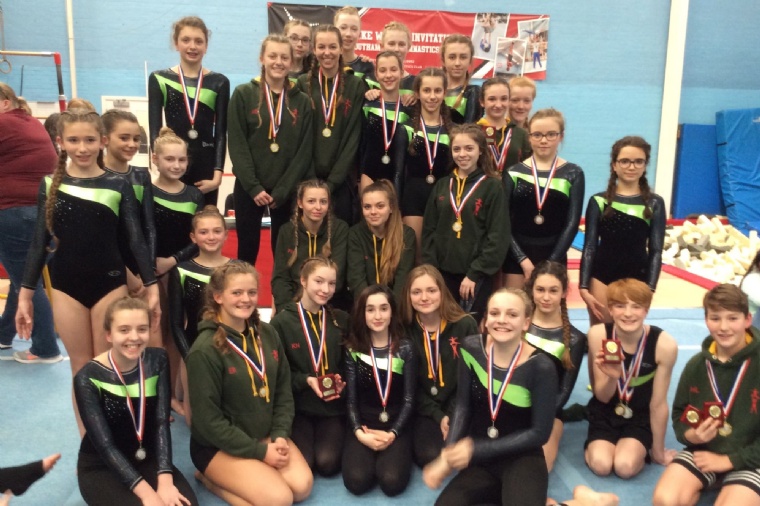 Next up ... the National Finals!
On March 25, our fabulous gymnasts competed in the Southern Region Competition winning 10 Golds, 9 Silver and 3 Bronze medals.
As well as performing their socks off, the students were a complete delight, approaching the competition with great maturity. They were so supportive towards all of the other team members, many of whom had not performed in a gymnastic competition before.
As well as winning 22 medals we have also had official confirmation today that we have 5 qualifications for the National Finals in Stoke on Trent in May:
U14 Boys Tumbling: Patrick Page
U14 Girls Tumbling: Gemma Stokes
U14 Mixed Pairs: Henry Loomis and Gemma Stokes
U14 Boys Pairs: Patrick Page and Henry Loomis
U14 Six: Amy Klaire, Abi Green, Ellie Roberts, Gemma Stokes, Tilly Cornaia and Kaitlyn Nicholson.
There are no other Secondary schools in the Southern region with more than one National entry this year which shows how incredibly well they have done and a what a talented sporting bunch we have.
A complete list of the gymnasts who competed is below:
Lourdes Pellicano, Poppy Rear, Abi Green, Amy Klaire, Claryssa Sharratt, Holly Murphy, Sophie Higgs James, Ellie Roberts, Anna Maria Scobie, Halle Porter, Lily Mae Mcdermott, Ella Wharton, Gemma Stokes, Henry Loomis, Sophie Cass, Daisy Mansfield, Tilly Cornaia, Kaitlyn Nicholson, Lily Boyle, Ruby Robson, Caitlin Scott, Chelsea Hickey, Abi Veck, Beatrice Hodge, Madeline Smith, Tilly Cottrell, Maisie Sheridan, Paige Morgan, Mya Stewart and Patrick Page.