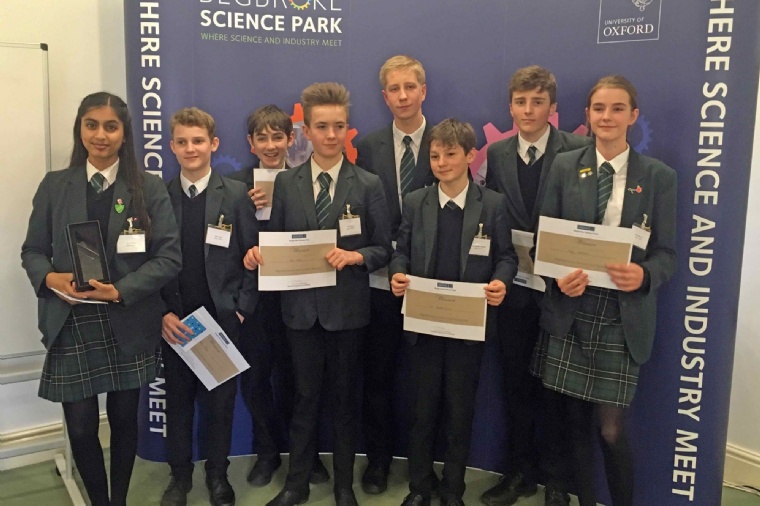 Year 9 students are #1 entrepreneurs of the future
Eight Year 9 'Most Able and Talented' students won first prize in the finals of the 'Innovation Challenge' in conjunction with Oxford University. It was held at the University's Begbroke Science Park in Oxford.
Working in groups, competitors were asked to develop a product that unitises a new technology given to them by the University. Presentations were then finally delivered to the judges in true 'Dragon's Den' style.
The students were given information about a new type of smart fabric that offers wearers duel heating and cooling, allowing individuals to control their personal temperature. Using plastic polyethylene, the fabric has nanosized pores making it easier for heat to escape. One side of the fabric is coated with carbon, to emit thermal energy while the other side is coated with copper, a metal that is good at trapping heat.
Our team presented their idea of a jumper that uses this technology. Body temperature would be controlled depending on which way round the jumper was worn. Ingenious!
Mr Neil Waite, Curriculum Leader for Design & Technology said, 'Our students were amazing, presenting a clever and marketable product with a confident and dynamic delivery. The competition was tough and they should be very proud of what they have achieved in winning such a prestigious award'
Photo (L to R) – Sia Pandey. Alec Foley, Roan Devine, Ben Good, Thomas Baldwin, Tom Stratton-Brown, James Beeston and Katy Henderson.
@eggars

Problem of the week! Please do not comment with the solution so other people can work it out too. Instead, like this post if you think you have the correct answer. The solution will be posted in the comments on Thursday at 4pm! Best of luck #UKMT #Problem #Maths https://t.co/p7WvGqGFuc 2:30 PM - 07 Feb 2023

@eggars

No one should have to face mental health problems on their own. @Place2Be are proud to partner with @GiveUsAShout to provide 24/7 support in the UK. If you're struggling, text CONNECT to 85258. Anytime, anywhere. #ChildrensMentalHealthWeek https://t.co/vuxqG2QDak 11:16 AM - 07 Feb 2023

@eggars

https://t.co/rrqJ2Hpi0e https://t.co/pFkiOYiIrK 11:14 AM - 07 Feb 2023
Follow Us