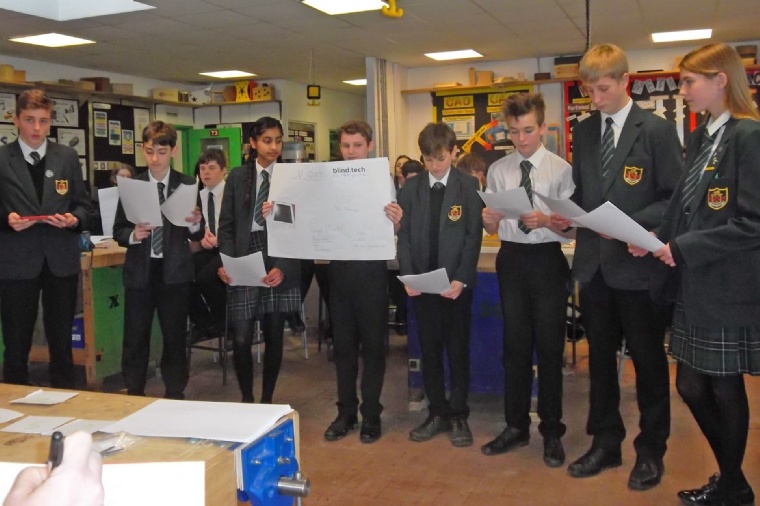 Dragon's Den comes to Eggar's!
Fifty Able and Talented students from Year 9 spent the morning undertaking the 'Innovation Challenge' in conjunction with Oxford University.
Students worked in groups developing products using a range of new technologies given to them by the University. Presentations were delivered to the judges in true 'Dragon's Den' style. The winning team confidently presented their idea of the 'U Touch' which uses a 3D touchscreen. The group explained that the new touchscreen technology is on its way to becoming more interactive with recent developments in a field known as "haptics" – the science of touch. The technology works by applying electrical currents with varying voltages on the screen. When a finger is run across the surface, touch receptors in the skin are 'tricked' into responding as if there is a particular texture. The students' application of this included touch screens for the visually impaired as well as tactile on line shopping.
The winning team will represent Eggar's at the National Finals at Begbroke Science Park in March.
Mr Waite, Curriculum Leader for Design & Technology was over the moon with the high standard of ideas and presentations saying, 'All the students were just amazing. It was very difficult choosing a winning team but it is a great way for all our students to develop their bright ideas into commercial products. By developing the theme of entrepreneurship in the science and technology sector, this workshop expands their perceptions of exciting career paths within the field. We are very proud of their success.'
Students in the photo (from left to right) James Beeston, Sia Pandy, Alec Foley, Ben Good, Tom Baldwin, Tom Stratton-Brown, Katie Henderson and Roan Devine
@eggars

#MondayMotivation Day One of our Great House Summer Fundraising event for TEABAG. Today Monty started their journey across Ghana by rowing machine and bike! Can't wait to find out how many miles they covered... #WeAreEggars #GoForGhana https://t.co/cmlBbDZN09 5:26 PM - 04 Jul 2022

@eggars

Journalists in the making! Zack and Jonathan interviewed Tom Yendell about TEABAG, his role as one of the Trustees and the amazing work the Charity does. This is what they found out! https://t.co/Zhg2jTv5AY #WeAreEggars https://t.co/JgRneatLtR 5:06 PM - 30 Jun 2022

@eggars

Do the Maths! Year 10 students Libby, Evie, Jess and Cali took up the Alton School Maths Challenge this week. Working with four future Eggar's students from Bentley School, they tackled three rounds of very difficult problem-solving maths. They were fantastic ambassadors https://t.co/onVvrb3qcJ 10:18 PM - 25 Jun 2022
Follow Us