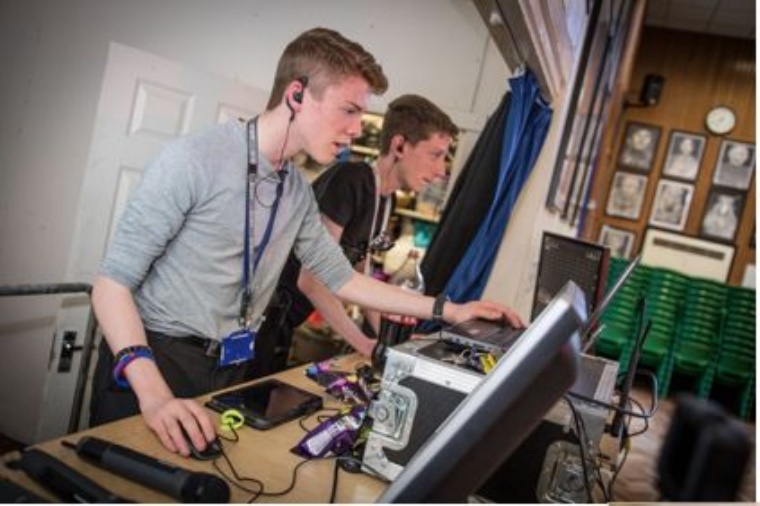 Oli Morgan and Josh Brindley, the AV Team!
We organise and run the AV (audio+visual) side of most event at Eggar's School which includes lighting, projection and sound. We got into this as Oli was friends with one of the previous lighting operators. He "trained us up" so when he left in 2015 we took over his responsibilities... and more.
The first thing we do to plan for any event is to sit down and decide on the targets for the first section of time. We always start with a custom made lighting plot and just make a few changes and adjustments until we make our final decision. This process is made easier by our joint knowledge of lighting and sound equipment.
Typically, in the days before the event, we set up all the equipment including the stage, lights, cables, any projectors we are using and the laptops, and do a basic system test. We eliminate any "surface" problems such as anything not working or software updates.
It has been really rewarding and so enjoyable we have set up Blue Active Events, our own small event company based in the Alton area. We offer services in Lighting, Sound and Video for concerts, festivals, parties, theatre and lots more! https://blueactiveevents.wixsite.com/blueactiveevents
@eggars

Do the Maths! Year 10 students Libby, Evie, Jess and Cali took up the Alton School Maths Challenge this week. Working with four future Eggar's students from Bentley School, they tackled three rounds of very difficult problem-solving maths. They were fantastic ambassadors https://t.co/onVvrb3qcJ 10:18 PM - 25 Jun 2022

@eggars

It's Fri-YAY and we're celebrating Matt D and his performance at the National Schools Biathle last weekend. He was placed 2nd in the Year 7 Boys race. (Biathle is an event that can involve a runswimrun course, or simply a swimrun course). #SoundsExhausting #GoMattGo https://t.co/pIe7RXQUpa 6:00 PM - 24 Jun 2022

@eggars

All rounders! Year 9/10 girls continued their strong rounders season yesterday with a 9.5 to 8 win against Alton School. The team were led to victory by Gemma (Batter of the game) and Charlotte (Fielder of the game). #WeAreEggars #GreenArmy https://t.co/nJ2EQkRBBx 3:38 PM - 23 Jun 2022
Follow Us