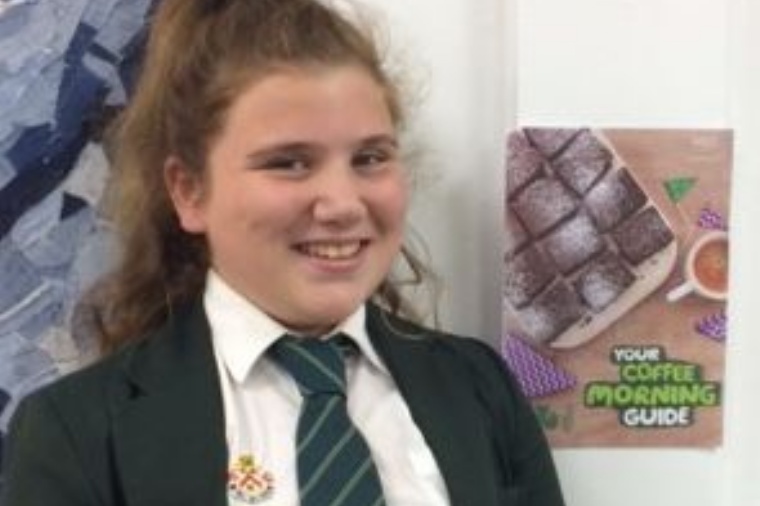 Amelia Cooper, 9NE Charity Representative
"I am charity rep because I thoroughly enjoy organising events and raising money for important causes. In the past I have raised a lot of money for a variety of charities, but cancer charities in particular are very close to my heart.
One of the events that I helped to organise was on Thursday 28 September 2017 - a cake sale and coffee morning for Macmillan Cancer Support. Our library was turned into a cafe and our invited guests gave donations to sit down and enjoy coffee, cake and a natter. We even had the Mayor visit us! In our school hall a vast amount of cakes were on sale for all staff and students. All together we raised an amazing £618".
@eggars

Do the Maths! Year 10 students Libby, Evie, Jess and Cali took up the Alton School Maths Challenge this week. Working with four future Eggar's students from Bentley School, they tackled three rounds of very difficult problem-solving maths. They were fantastic ambassadors https://t.co/onVvrb3qcJ 10:18 PM - 25 Jun 2022

@eggars

It's Fri-YAY and we're celebrating Matt D and his performance at the National Schools Biathle last weekend. He was placed 2nd in the Year 7 Boys race. (Biathle is an event that can involve a runswimrun course, or simply a swimrun course). #SoundsExhausting #GoMattGo https://t.co/pIe7RXQUpa 6:00 PM - 24 Jun 2022

@eggars

All rounders! Year 9/10 girls continued their strong rounders season yesterday with a 9.5 to 8 win against Alton School. The team were led to victory by Gemma (Batter of the game) and Charlotte (Fielder of the game). #WeAreEggars #GreenArmy https://t.co/nJ2EQkRBBx 3:38 PM - 23 Jun 2022
Follow Us