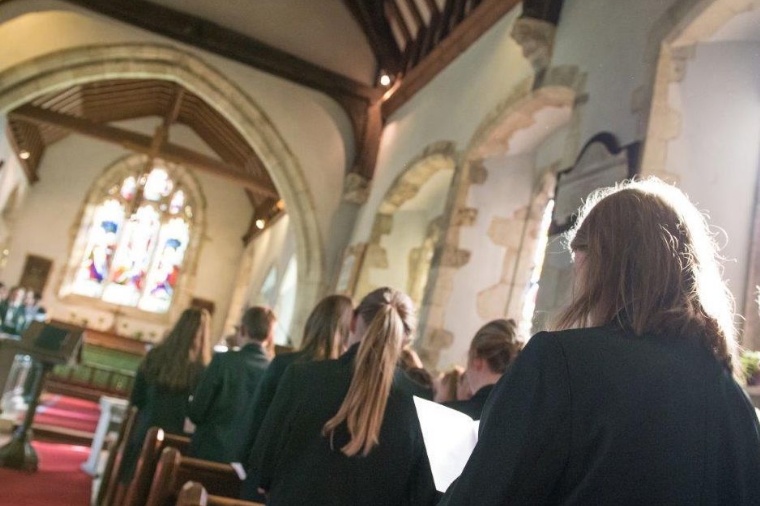 School's long history celebrated
On October 3rd and in a service which happens every year at Holybourne Church, Year 7 students remembered their founder, a local farmer named John Eggar.
Under a Trust Deed dated 21st March 1638, Eggar realised his idea of providing a school to serve the needs of its community. The first Head Teacher was appointed in 1642 – the date that appears on the school badge and which is proudly displayed on the current Eggar's School blazer.
The Year 7's walked in a crocodile to Holybourne (another tradition of the day) and then enjoyed a lovely service led by the Reverend Chris Bradish. The whole service helped the students really appreciate the long history of their new school.

@eggars

Do the Maths! Year 10 students Libby, Evie, Jess and Cali took up the Alton School Maths Challenge this week. Working with four future Eggar's students from Bentley School, they tackled three rounds of very difficult problem-solving maths. They were fantastic ambassadors https://t.co/onVvrb3qcJ 10:18 PM - 25 Jun 2022

@eggars

It's Fri-YAY and we're celebrating Matt D and his performance at the National Schools Biathle last weekend. He was placed 2nd in the Year 7 Boys race. (Biathle is an event that can involve a runswimrun course, or simply a swimrun course). #SoundsExhausting #GoMattGo https://t.co/pIe7RXQUpa 6:00 PM - 24 Jun 2022

@eggars

All rounders! Year 9/10 girls continued their strong rounders season yesterday with a 9.5 to 8 win against Alton School. The team were led to victory by Gemma (Batter of the game) and Charlotte (Fielder of the game). #WeAreEggars #GreenArmy https://t.co/nJ2EQkRBBx 3:38 PM - 23 Jun 2022
Follow Us