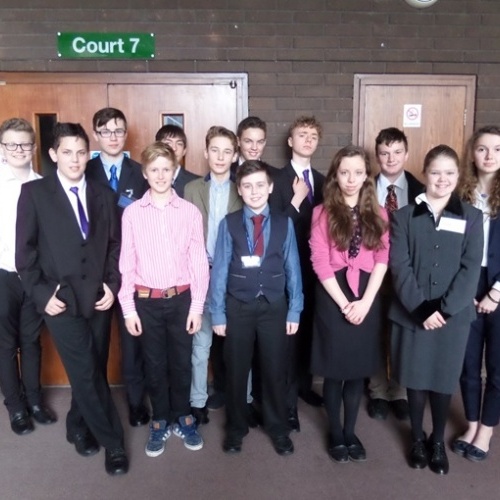 Eggar's through to the Regionals
A team of 13 Year 8 and 9 students from Eggar's took part in the Guildford Magistrates' Mock Trial Competition heats on Saturday 14 March, accompanied by Emily Cox and Kathy Mitchell, teachers from Eggar's.
The students competed against 5 other schools from the Surrey/Hampshire border in Guildford County Court, in a mock trial scenario that tested students' analytical skills and strength of argument, acting skills and ability to think on their feet under pressure.
The prosecution from Eggar's battled it out first in the morning, followed by the Defence team in the afternoon, arguing out a case of alleged theft that they had been working on since October.
Roles included magistrates, lawyers, legal advisor, court usher, the defendant, defence and prosecution witnesses.
After a tense wait, it was revealed that Eggar's had won the local heat having put in the best team effort, and will go through to the regional heats in May
Students had a really enjoyable time at the court submitting questions to a panel of top barristers, judges, a police superintendent and prison governor, as well as touring the court, exploring the cells and speaking to some police officers from the fire arms unit.