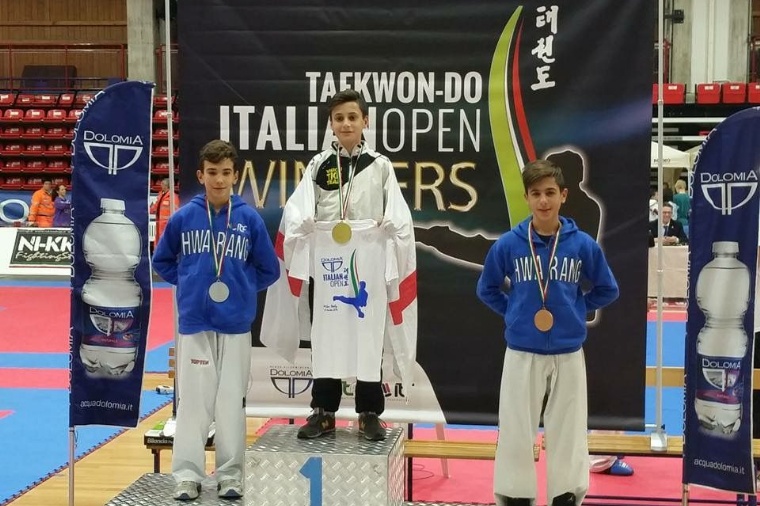 International taekwondo star in the making
Cian Hosking started Taekwondo in 2010. He is part of the elite Vision TKD England squad and trains four times a week. In June he achieved a black belt at the age of 13 and immediately began international competition.
In October he competed in his first event as a black belt in the World Cup in Budapest. Cian was defeated by the eventual gold medalist from Spain in patterns and had a very tough draw in sparring. No medals were won but Cian took away a wealth of experience.
He competed in Birmingham for a place on the national squad for next year's European and World Championships. Despite being the youngest, smallest and lightest competitor, Cian had a great competition and will take part in the second phase in February.
He competed in the Italian Open Championships in November this year, travelling as part of Team Vision TKD England with his coaches Mr Adams and Master Lear. He achieved a silver medal in patterns, losing out to the Spanish again – but only by a single point. Infact he gave such a good performance that the Spanish national coach made a point of talking to him after the competition.
Cian remained focused for the rest of the competition and with his powerful side kicks, he dominated a tough sparring competition and achieved a well-deserved gold medal!
He dreams of taking part in the World Championships in Ireland next year with all his family around him – an ambition we think he is very likely to achieve.
@eggars

Do the Maths! Year 10 students Libby, Evie, Jess and Cali took up the Alton School Maths Challenge this week. Working with four future Eggar's students from Bentley School, they tackled three rounds of very difficult problem-solving maths. They were fantastic ambassadors https://t.co/onVvrb3qcJ 10:18 PM - 25 Jun 2022

@eggars

It's Fri-YAY and we're celebrating Matt D and his performance at the National Schools Biathle last weekend. He was placed 2nd in the Year 7 Boys race. (Biathle is an event that can involve a runswimrun course, or simply a swimrun course). #SoundsExhausting #GoMattGo https://t.co/pIe7RXQUpa 6:00 PM - 24 Jun 2022

@eggars

All rounders! Year 9/10 girls continued their strong rounders season yesterday with a 9.5 to 8 win against Alton School. The team were led to victory by Gemma (Batter of the game) and Charlotte (Fielder of the game). #WeAreEggars #GreenArmy https://t.co/nJ2EQkRBBx 3:38 PM - 23 Jun 2022
Follow Us