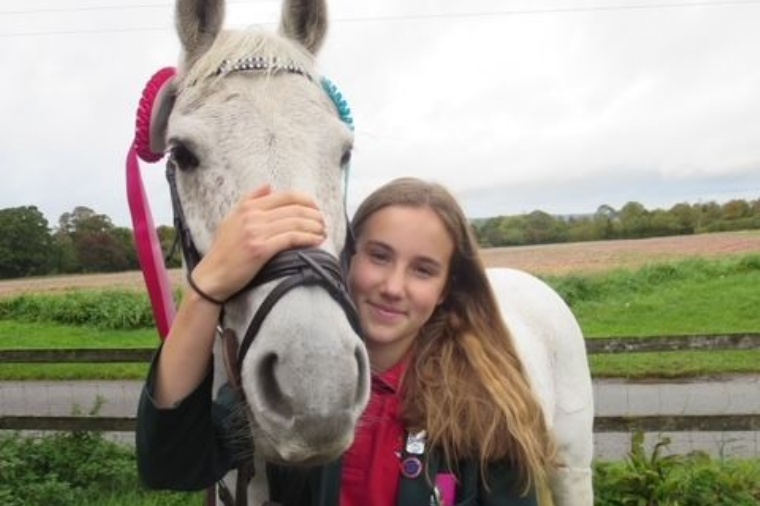 Daisy B. wins rosettes at NSEA competition … despite the weather.
Daisy did a great job representing Eggar's at a showjumping competition at the weekend. It took place at Coombelands, an equestrian centre set in the beautiful surroundings of Pulborough, West Sussex.
Daisy was riding at the Inter‐Schools Grass Roots Show Jumping Qualifier which is a competition open to schools from all counties. The purpose of this National Schools Equestrian Association programme is to provide riders with the opportunity to experience the excitement of competition.
Daisy, a very competent and experienced rider, certainly grabbed that opportunity and entered two classes. She came 6th in the 70cm class, which ensured qualification for the next round on 7 November!
She came 8th in the 80cm, narrowly missing out on qualifying in this class.
Daisy rode really well especially as the weather was awful all day; she got completely drenched in the rain!
Congratulations Daisy! Great job!
@eggars

Don't forget for Years 7, 8 and 9 (only), it's NON-UNIFORM DAY this Friday 27 May. Only £1.00 to take part via your SCOPAY account or cash on the day. All in aid of the brilliant TEABAG! #WeAreEggars https://t.co/Ye4N4smOV1 5:41 PM - 24 May 2022

@eggars

Come and see us! Take a Guided Tour around our amazing school and see what we mean when we say #WeAreEggars. We still have some spaces for the Tours in June. Book today: https://t.co/eSIlOtZxl2 6:54 PM - 23 May 2022

@eggars

Leadership. Teamwork. Fun! Last Friday Lt Commander Russ Haines from the Royal Navy led a fabulous training day for our student leadership team. Their mobile training apparatus was very similar to a large scale Meccano set! #WeAreEggars https://t.co/9so2z6EtpV https://t.co/IIcLQgmcpn 4:15 PM - 22 May 2022
Follow Us