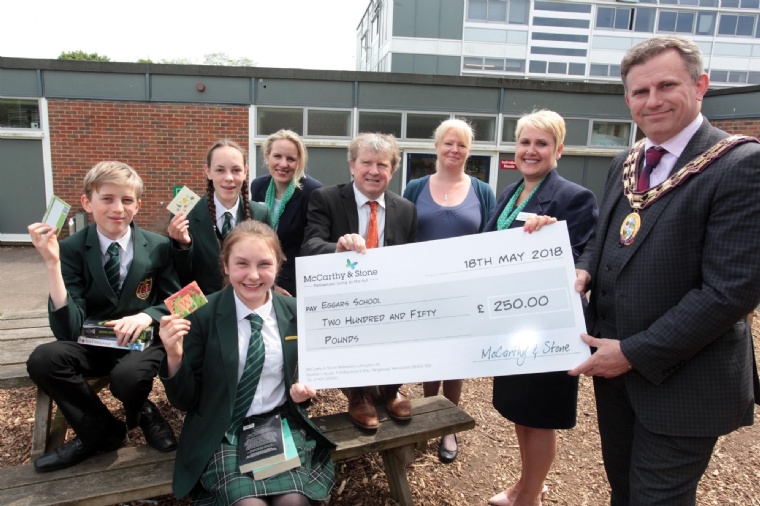 McCarthy & Stone supports the Eggar's English Department
McCarthy and Stone, the house builder behind the Austen Place Retirement Living Plus development in Alton, has donated £250 to the English department of local secondary school, Eggar's. Their support is a welcome boost for the school as it will go towards their ongoing efforts to develop the English Department.

The short story competition hosted by McCarthy and Stone, invited students from Eggar's to write a creative and exhilarating story in honour of the local literary history in Alton.

McCarthy and Stone recognised the literary history of Alton by naming the Retirement Living development, Austen Place in tribute to 19th century English novelist Jane Austen, who spent the last eight years of her life living in the village of Chawton near Alton.
The creative activity is centred on encouraging children to be imaginative and expressive with their stories. With over 100 fantastic short stories, there was plenty of enthusiasm from the students at Eggar's.
Ethan Brooks (aged 12) took home 1st place along with a book token for his short story named Hello Mr Magpie, a comical story about a nightmare day at school. Jeremiah White (aged 11) and Kristina Baker (aged 13) won 2nd and 3rd place respectively with their anecdotal family stories.
The winners were presented with their prizes by the Mayor of Alton, Councillor Dean-Paul Phillips, who also presented a cheque of £250 to Head Teacher, Patrick Sullivan and Head of English, Kate Shawyer.
Patrick Sullivan, commented: "On behalf of Eggar's School, I would like to thank McCarthy and Stone for their support to the English department. The students thoroughly enjoyed creating their short stories and we look forward to building on our relationship with McCarthy and Stone as it continues to establish a presence in Alton."
Kim Caldwell, Regional Sales and Marketing Director for McCarthy and Stone, commented: "As a company, we appreciate that our responsibility is not only to build quality, purpose-built retirement properties, but also to create a positive legacy in the communities in which we build. Eggar's is a superb school in the area and we are delighted to be able give their English department a helping hand."