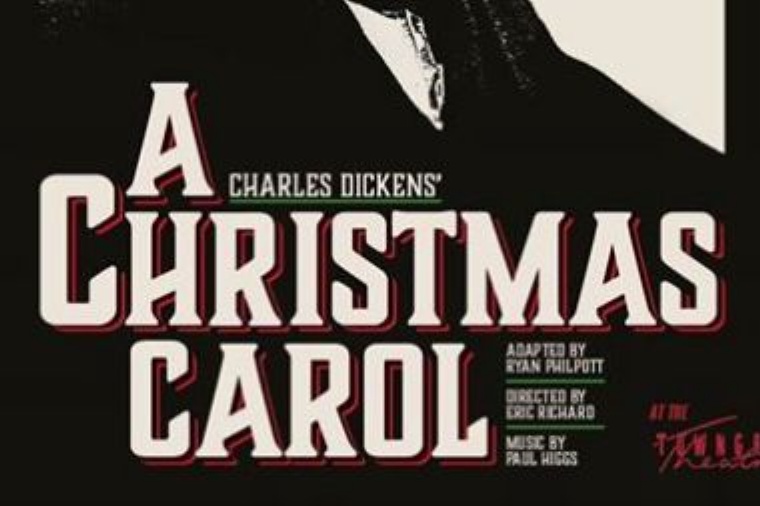 A group of Year 10 English students went to the Haymarket Theatre in Basingstoke on Wednesday to see an innovative production of 'A Christmas Carol' – a festive and enjoyable way to help with their Dickens studies.
Theatre critics David Gee, Mehmet Colakoglu and Lewis Brough report:
This performance was a fantastic representation of the classic Dickens story. It stayed very true to the original narrative while including direct quotes from the book too. I know that everyone who went on the trip thoroughly enjoyed it. There were some hilarious moments and the actors were able to create a vivid, engulfing atmosphere which really made you feel like you were part of the moment.
I think the performance helped us to see the story in another light. Having live actors in front of you helped us to connect with the characters and their emotions. They really managed to bring the ghosts to life. The gentle personality of the Ghost of Christmas Past, the jovial characteristics of the Present and the grave, eerie presence of the Christmas Yet to Come were all captivating.
Overall the experience was fantastic and I would recommend it to anyone studying the novel or looking for a nice play to watch.
***************************************
The play reflected the original elements and themes of Dickens' story. The constantly changing scenes also made the experience feel much more interesting and flowing. The set was the only problem. It lacked certain elements such as windows…but other than that the play was a joy to watch. The actors portrayed multiple characters as if it were second nature to them. The talent of the actors also shone when they sang.
Overall I would highly recommend the play for an entertaining 90 minutes.
************************************************************************
The main reason I felt I needed to go (to the show) was to refresh my brain on the play and remember quotes like "he had no further intercourse with spirits". I have been able to remember these quotes now because of the performance.
Personally I believe that the part where Scrooge is nice again and he encounters the charity workers and donates highly is the best bit; but I also liked the part where Scrooge acted nasty to Bob Cratchit and said "I'm giving you a pay rise", then Bob dropped his hat!
I liked was the smoke effects throughout the performance. I also liked a small detail where they opened a door to make the audience feel like they were a part of the play. The lighting was used effectively to hide parts of the stage when it was needed and was used to gather emotions from the audience.
This trip has helped me revise by going over the play again in an interesting way. It has helped me remember quotes and scenes like when Scrooge is taken in by his dad again and when he goes to see Fezzywig.
@eggars

Do the Maths! Year 10 students Libby, Evie, Jess and Cali took up the Alton School Maths Challenge this week. Working with four future Eggar's students from Bentley School, they tackled three rounds of very difficult problem-solving maths. They were fantastic ambassadors https://t.co/onVvrb3qcJ 10:18 PM - 25 Jun 2022

@eggars

It's Fri-YAY and we're celebrating Matt D and his performance at the National Schools Biathle last weekend. He was placed 2nd in the Year 7 Boys race. (Biathle is an event that can involve a runswimrun course, or simply a swimrun course). #SoundsExhausting #GoMattGo https://t.co/pIe7RXQUpa 6:00 PM - 24 Jun 2022

@eggars

All rounders! Year 9/10 girls continued their strong rounders season yesterday with a 9.5 to 8 win against Alton School. The team were led to victory by Gemma (Batter of the game) and Charlotte (Fielder of the game). #WeAreEggars #GreenArmy https://t.co/nJ2EQkRBBx 3:38 PM - 23 Jun 2022
Follow Us