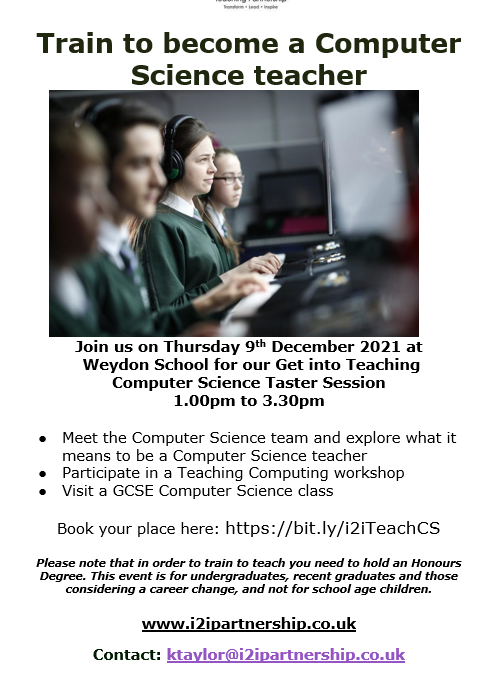 16/11/2021
Dear Parent/Carer,
Help create the next generation of technical innovators
As a society we are becoming ever more reliant on technology in every aspect of our lives. Many jobs that exist today may not be around in the coming years, and likewise, there will be jobs that need to be filled in the future that don't yet exist, with AI, robotics, cyber security and automation coming to the forefront.
WIth this in mind it is imperative that children leave school with a good grounding in computational thinking and problem solving, preparing them for future opportunities. Computer Science develops these problem solving skills and opens a student's eyes to the digital world. As a teacher, there is nothing better than seeing the face of a student light up when they have solved a big problem, whether a bug in their code, or making a robot move. Knowing you are equipping a student to use computational thinking and creativity to understand and change the world is a truly wonderful thing.
If you would like to find out how you could make a real impact on the lives of others by training to become a Computer Science teacher, we would like to invite you to join us at our Get into Teaching Computer Science Taster Afternoon on Thursday 9th December 2021 at Weydon School. During the afternoon you will be able to:
meet the Weydon Computer Science team over lunch and explore what it means to be a Computer Science teacher
participate in a Workshop looking at current Computer Science lesson activities
visit a GCSE Computer Science class
ask questions to our team of Computing and Teacher Training experts
Please note that in order to train to teach you need to hold a Degree. This event is for undergraduates, recent graduates and those considering a career change, and not for school age children.
If you are interested in attending, please visit our web page where you will find a link to sign up: https://www.i2ipartnership.co.uk/443/upcoming-events. If you are unable to attend but are interested in finding out more please email Krissy Taylor at ktaylor@i2ipartnership.co.uk
Yours faithfully,
Maria Mezzullo
i2i SCITT Director and WMAT Director of Teacher Development
The i2i SCITT is committed to safeguarding and promoting the welfare of children and young people and expects all staff and volunteers to share this commitment.
@eggars

Practice makes perfect! #ChristmasatEggars #WeAreEggars https://t.co/f1rPm6VKKw 9:30 AM - 05 Dec 2021

@eggars

Some of our Year 11 D and T pupils are in school today, busy in the workshop. #ChristmasatEggars #WeAreEggars https://t.co/Tkiqq6PoeZ 9:00 AM - 04 Dec 2021

@eggars

Don't forget it's non uniform today raising money for the 999 Cenotaph. #ChristmasatEggars #WeAreEggars #UnitetheUniforms https://t.co/zZFtSBu0CB 8:30 AM - 03 Dec 2021
Follow Us