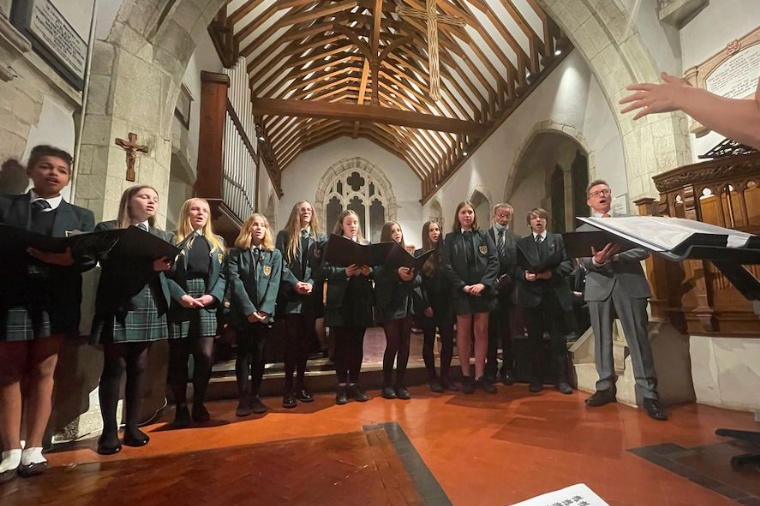 From the traditional carol service to our final assembly ...
Music has been a big feature of the last two weeks of the autumn term.
On Wednesday, December 8 we were proud to showcase our talented musicians in our Yuletide Concert. Performing in front of a packed house was our Big Band, the Concert Band, The Rhythmatists, our String Ensemble and United Voices.
There were classical pieces, songs from musical theatre and other popular music. Of course the concert was full of Christmas joy with favourites such as 'Silent Night' (Mr. Farris' own arrangement), 'Christmas Rock' and 'Santa Claus is coming to Town'! At the end of the concert, the Massed Choir sang a rousing 'Twelve Days of Christmas'.
Then on Tuesday 14 December, we returned to The Church of the Holy Rood, Holybourne for our annual Advent Carol Service. It was lovely to be back in the church, having been unable to go for the last two years because of COVID. The programme was packed with traditional Christmas carols, more beautiful singing from Voices in Harmony and United Voices together with our talented String Group playing Mozart and some amazing solos from Milo on cello and Isla on flute. There were also readings from Wordsworth, Tennyson, Hardy and Rossetti. It was a beautiful evening which really got everyone in the Christmas mood!
The music continued with the final assembly on the last day of term - the perfect end to a very busy term. Congratulations to everyone who made all our musical events so amazing!