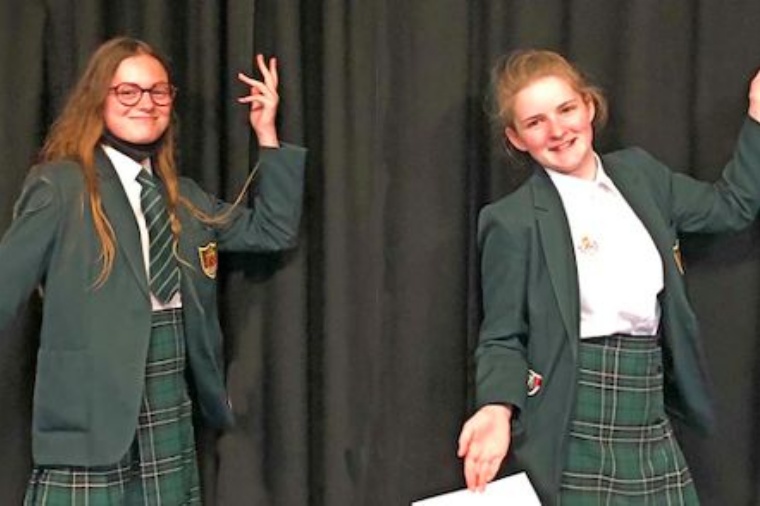 And the winners were ....
There were some really excellent entries to the recent House Drama Competition. Lydia D, Issie S and Em S collected their KS3 prize vouchers after brilliantly performing a scene from Harry Potter. They even included a bloopers edit!
Jemimah W won the KS4 Competition, choosing to act out lyrics from a song.
Mrs Clarke judged all the entries ... and Mrs Tomkinson was over the moon. Both winning groups were in Monty and earned themselves 500 house points! All entrants were awarded 100 points.
Well done everyone!
(Lydia and Issie pictured above)
@eggars

Problem of the week! Please do not comment with the solution so other people can work it out too. Instead, like this post if you think you have the correct answer. The solution will be posted in the comments on Thursday at 4pm! Best of luck #UKMT #Problem #Maths https://t.co/p7WvGqGFuc 2:30 PM - 07 Feb 2023

@eggars

No one should have to face mental health problems on their own. @Place2Be are proud to partner with @GiveUsAShout to provide 24/7 support in the UK. If you're struggling, text CONNECT to 85258. Anytime, anywhere. #ChildrensMentalHealthWeek https://t.co/vuxqG2QDak 11:16 AM - 07 Feb 2023

@eggars

https://t.co/rrqJ2Hpi0e https://t.co/pFkiOYiIrK 11:14 AM - 07 Feb 2023
Follow Us