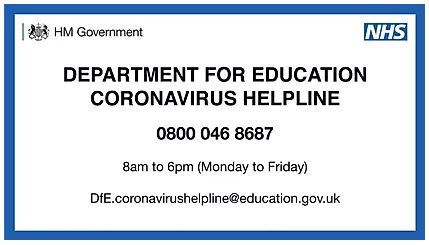 Please use these links to find out more information:
Updates:
Following the Government's announcement, Eggar's School will be closed from Monday 23 March to all children except for the following:
Children of key workers (we expect a list to be published by the Government today). Where only one parent is a key worker then the other one MUST stay at home to look after their children.
Children with whom we are already providing additional support through the social care framework or EHCP
Please email enquiries@eggars.hants.sch.uk with Priority Workforce in the subject line to notify us that you may need support with child care. Thank you to parents who have already notified us to say that you are part of the Priority Workforce.
The following systems may be used during our period of closure and links are provided for ease of access:
Show My Homework
https://eggars.satchelone.com/school/homeworks/calendar
EPraise
https://app.epraise.co.uk/index.php?school=eggars&login=staff
GCSEPod
https://members.gcsepod.com/podauth/login/office365
Direct email access
Office 365 (including OneDrive and email)
Educake
SENECA
https://app.senecalearning.com/login
MathsWatch
https://vle.mathswatch.co.uk/vle/
For all updates on Home Learning please check the Parents Information/Letters by clicking this link.