National Careers Week is a not-for-profit company which promotes the importance of good careers education in schools and colleges, founded and backed by a number of volunteers with a wealth of experience from education, business and careers guidance.
The idea is to ensure that future generations will benefit from quality and meaningful interactions that help them understand the links between courses, skills and the pathways they open up. NCW has been all about empowering schools, colleges, universities, teachers and careers professionals across the UK to celebrate quality careers information advice and guidance for one full week every year.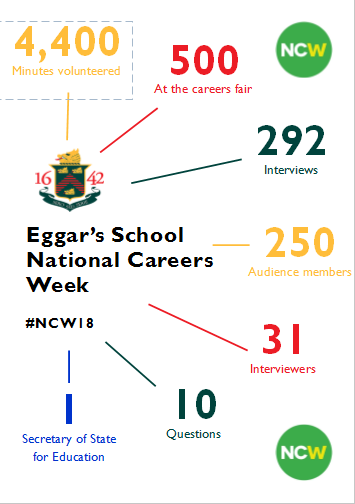 In March 2018 as you will see from the diagram above, we hosted an incredibly busy and thoroughly inspiring event. There were over 292 mock interviews, with 31 interviewers coming from a myriad of backgrounds including local businesses, police, fire services, colleges, university and past students. We held a careers fair visited by over 500 students and demonstrations and details of potential careers and apprenticeships. James Golding, a truly motivational speaker spoke to Year 9 students on suriving cancer twice, and breaking the world record for the most miles cycled in 7 days. To conclude the week Damian Hinds, Secretary of State for Education, attended an Eggar's does Question Time with students asking him some very probing questions covering a wide variety of topics. Mr Hinds ended by saying:
"National Career's Week is a very important initiative in schools because it is an opportunity for young people to see the full breadth of the options available and what they need to do to get there."
The National Careers Week in 2019 will be held at Eggar's commencing 04 March.
@eggars

RT @eggarscommunity: Have you played your part? @eggars are fundraising for stellar Performing Arts departmental improvements for @eggarsd... 10:20 AM - 05 Dec 2019

@eggars

Wednesday 27th November 2019 - The school is open as normal following a successful repair of our water system. https://t.co/LQz0ZsZKmm 5:52 AM - 27 Nov 2019

@eggars

A pipe burst at 0725 resulting in all water being isolated and no facilities. Engineers attended and now in the process of fixing. We hope to open tomorrow but please check website at 0600 for confirmation. Thank you for your patience and understanding. https://t.co/Ua9eV7qZUO 12:54 PM - 26 Nov 2019
Follow Us